Frost Alarms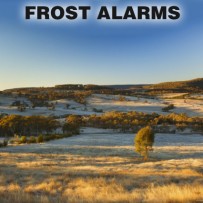 We offer a range of radio linked frost alarms, from simple single point 'alarm only' links intended for temporary deployment through to permanently installed solar powered multipoint ambient air temperature senders accurate to half a degree Celsius.
This product range covers the full spectrum of growers requirements with regard to frost warning. Starting with cost effective audio alarm modules for small family farms and finsihing with real time remote temperature display / controllers capable of fully automatic frost abatement across multiple zones in corporate produce applications. All systems have user adjustable temperature trip points with relay outputs for auto diallers or other alarm systems.
More information about our frost alarms will be coming online soon. In the meantime, feel free to get in touch for an information sheet or pricing.