The Watermation Treatment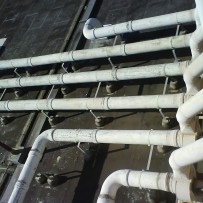 Watermation means water automation, & that includes waste water because water recycling is becoming a growth industry as the realisation dawns that the supply of fresh water is finite and that less potable sources are fine for many applications.
Pictured is one of several dozen irrigation solenoid control points at Sydney water corps waste water recycling scheme at Picton. This PC based system controls the use of highly treated effluent for the production of silage sold to local dairy farmers. Wireless waste water management is an economic alternative to trenching underground cable.
I was on site at this location recently when one of the sprinklers hit me with a blast. Now I try hard to be a no prejudice person & I know the liquid that splashed me has been so heavily processed you could probably drink it. But I have to confess to an involuntary shudder as the cold splosh caught me full on, a bit of that toilet-to-tap mental bias showing through I guess? Still its crazy to use pure drinking water to grow crops in the driest inhabited continent on earth so we just have to get smarter with our water usage.